Aug 5, 2022
0
---
A websites conversion rate is the percentage of users who take a desired action on your site. The conversion rate is generally associated with how much revenue your website generates.
A user converts, when they take the desired action on your website that you want them to.
Website performance, or website speed, plays a huge role in how much of your traffic will result in conversions. → Increase Your Conversion Rate
According to Digital.com, 19% of respondents say, on average, they will abandon a web page that takes longer than 2-3 seconds to load, while 8% will leave after one second. Twenty-five percent of online shoppers will abandon a page that doesn't load within 4-6 seconds.
Website Performance has a Large Measurable Effect on Conversion Rates
Website performance has a large, measurable effect on conversion rates, according to Cloudflare (and many other reputable sources).
Studies have consistently shown that fast page speed will result in a better conversion rate.
See the below infographic from Cloudflare which illustrates the percentage of decrease in conversions as it relates to page load time:

→ Source: https://www.cloudflare.com/learning/performance/more/website-performance-conversion-rates/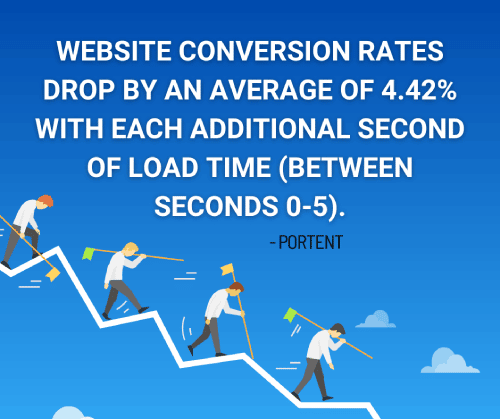 Website conversion rates drop by an average of 4.42% with each additional second of load time (between seconds 0-5). – Portent
Increase Your Conversion Rates by Moving to GlowFrog
Data consistently shows that website performance = sales. By signing up and migrating your site to GlowFrog, you could be increasing your conversion rates by 20% or more.
I don't know what you guys did, but ever since I moved to your hosting I started getting a LOT more conversions through my landing page! – Quote from a current GlowFrog Customer
Not a current GlowFrog customer? Sign up for one of our Managed WordPress plans and enjoy a free, fast migration within 24 hours.