---
Question: What is my primary domain?
Answer: Your primary domain is the main domain in your cPanel account. It is the domain you initially signed up with and that your cPanel hosting account was created under.
In this Guide:
→ How to Locate Your Primary Domain
→ What is an Add-On Domain?
→ What is a SubDomain?
In Another Guide:
→ Where do I Upload My Files?
Every cPanel account must have one primary domain. But there are also other types of domains. In this guide, we explain how to Locate Your Primary domain as well as what other types of domains there are.
How to Locate your primary domain in cPanel
1. Login to cPanel
2. Once logged in you should see the "General Information" block in the top right hand corner of cPanel.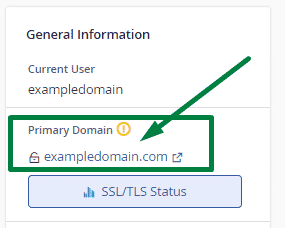 3. Your primary domain is listed underneath the "Primary Domain" label.

What is an Addon Domain?
An Addon Domain is an additional domain name separate from the primary domain name. Addon domains are how additional domains that aren't the primary domain, are classified.
What is a SubDomain?
A Subdomain is a subset of a regular domain such as: my.domain.com whereas the main, or primary domain would be domain.com.
→ Not sure where to Upload Your Files? See our Article on: Where do I upload my Files? A Guide to locating and understanding What is the Document Root
At GlowFrog, we make managing all of your WordPress sites easy, from one intuitive dashboard.
Not a current GlowFrog customer? Sign up for one of our Managed WordPress plans and enjoy a free, fast migration within 24 hours.