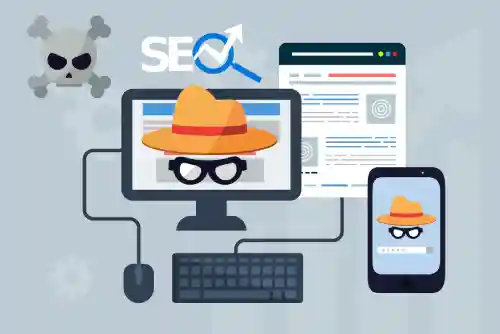 ---
Hacks are never fun – but one of the most detrimental impacts a hack can have on your business is the SEO impact and damage to your online reputation. It can take years to build up a solid SEO footprint. Having all of your hard work come crashing down in one swift motion is one of the most stressful scenarios a business owner can face.
How do Hacks Negatively Effect SEO?
WordPress Hacks have severe consequences for your SEO and can negatively impact your rankings.
This is due to malicious and low value links which get inserted into your site. These links are generally associated with questionable content and other hacked sites.
Not only does this questionable content decrease the level of trust Google or other search engines have in your site, but it can land your site being blacklisted from search engines, all-together — virtually destroying your online presence entirely.

Fix your SEO if you've been Hacked
Luckily, if you've been hacked, there are ways to help mitigate the effects and get things back in working order. Fix your SEO footprint and restore your online reputation with WordPress Hack Recovery and Security Services like those offered by GlowFrog.
Choose your hosting plan, migrate your site to GlowFrog and take advantage of the 24-48 hour hack removal and SEO repair and delisting service.