Only the Best from GlowFrog!
If you need affordable hosting, from a genuine provider… then go Glow Frog!!!
Alex B.
This company is a hidden gem!!
This company is a hidden gem!! They transferred everything for me for free I got the WordPress hosting and even fixed some of the issues I was having. Since then everything's been running smooth and I have had NO problems. I just felt like I should leave a review since the person I talked to was so helpful I think her name was Kristin. HIGHLY RECOMENDED!!!! Thanks for everything. You guys are awesome.
happydude
Great service
I am an old retired Army Veteran. I transferred to you guys from Site5 since IX webhosting went away and I didn't have a good experience with site5. my website went down and they didnt help mat all and then I had issues with my domain. You guys helped me get my domain issues squared away and set me up with a new website soon as i signed up which looked and worked even better than the first and I am very happy. 10/10 would recommend to everyone. Thanks again
randy
Low Cost, High Performance, Friendly Support
When starting my online business GlowFrog offered me a great deal on space to host my WordPress website. Thanks to GlowFrog I have a working domain and I do not have to worry about my website crashing or any system updates.
Thank You GlowFrog!
David
The Goddess is Pleased!
I am a freelance Website and WordPress developer – I've used many different hosts in the past to host my clients WordPress websites. I will never recommend another company again if it isn't Glow Frog! Best experience EVER!! both for myself and for my client! I mean WOW! I am impressed and utterly shocked that this company does not get more recognition than it does. This is one of the very few Hosting companies that I've used that are true to their business model and true to their word when it comes to the features and hosting service they offer. Hands down the best. Their techs really know their stuff. I haven't met one yet that didn't immediately understand my technical needs instead of arguing with me about what they "think" the issue is.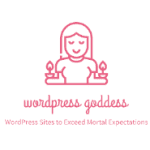 Stephanie AKA WordPress Goddess
Leave a Review