There are more than a few ways you can install WordPress onto your domain. Most Hosts provide an easy way such as an Applications Installer which will allow you to install WordPress easily with little to no technical configuration. But, there are some instances where you may need to install WordPress Manually. In this article we will be discussing how to install WordPress manually using File Manager in cPanel.
Overview
How to Install WordPress Manually
Downloading and Uploading WordPress
1) Download the Latest Version of WordPress from the WordPress.org website. Click Here to Visit WordPress.org and Download the Latest Version of WordPress.
2) Upload the .ZIP (example: wordpress-5.3.2.zip) file to the document root for your domain using File Manager or via FTP.
Need Help Uploading Files?
3) Extract the Contents of the file in the Document Root for your Domain.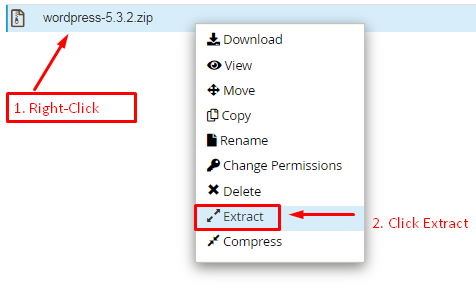 Note: When you extract WordPress, the contents will be in a folder labeled WordPress. You will need to move these files out of the WordPress folder and into the Document Root for your domain.

Need Help Moving Files?
Setting up Your WordPress Database
1) Create your WordPress Database and Database User in cPanel. Add the User to the Database with full Administrator Privileges. 
Note: Remember your Database Name, Database Username and Password. You will need this information to connect WordPress to the Database.
Need Help Creating your Database?
Installing WordPress
1) Browse to your Domain in your Internet Browser (example: http://mywebsite.com)
You should be redirected to the WordPress installation screen automatically.
2) Select Your WordPress Language. Then click 'Continue'.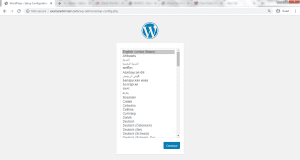 3) Click 'Let's Go' on the next page.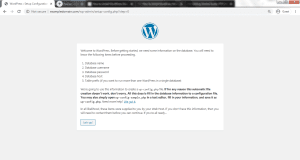 4) Enter the Database Information you saved from earlier in Step 1 of Setting up Your WordPress Database.
Confirm the details look correct then click 'Submit'.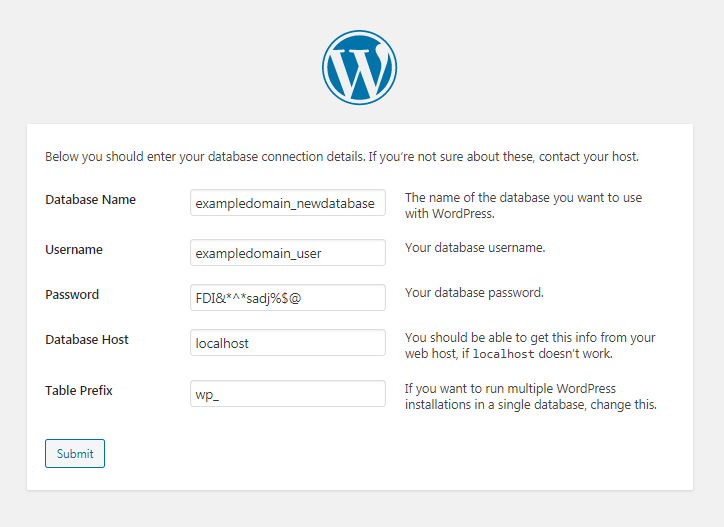 5) In the next page you should be asked to input the details for your WordPress site. Input the desired details then click 'Install WordPress'.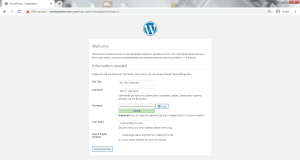 Field

Explanation

Site Title:

My New Website!
Enter the desired Title for your Website. (this can be changed later in the WordPress Dashboard)

Username:

Admin Username
Choose a username to login to the Administration Dashboard of WordPress

Password:

**************
Set a password for the admin user

Your Email:

myemail@gmail.com
The email of the Administrator for WordPress. It is best to use a Gmail, Yahoo or other email address.

Search Engine Visibility

:
Yes
Decide whether or not you want your WordPress website to show up in search engines like Google.com
6) You should be redirected to a Success Page informing you that the installation was successful and WordPress is now installed.
Login to WordPress
1) Click on the 'Login' button to be redirected to the WordPress login page. Login with your New Username and Password to access the WordPress Dashboard.
→ See our Guide on How to Login to WordPress.
That's it! You've successfully completed a Manual Installation of WordPress. Head on over to our WordPress Product Guide Center for more helpful tips and Guides on WordPress!
Need Help? Ask us!
[cf7 slug="Contact Form Style 1″ title="Contact Form Style 1″]
Helpful Articles & Resources