Security is our Priority.
That's why we include a courtesy SiteLock Security Subscription.
Not only do you benefit from our Intelligent Server Security, but additional Security Tools for your website(s) become available when you choose to activate your SiteLock Security subscription.
WordPress users also benefit from our WordPress Complete Security Solution.
Activating your SiteLock Security subscription from within your hosting account is easy.
Your Free SiteLock Security Subscription
When you sign up for any of our Hosting Plans, you get an optional, free subscription to SiteLock. Upon Activation of your free subscription, access to additional malware scanning and website security tools are available from within your Client Area.
Your courtesy SiteLock account comes with:
– WebSite Scanner
– Malware Removal
– Website Firewall
– Manage from FrogDen
– Emergency Help on Standby
HOW TO ACTIVATE YOUR SITELOCK SUBSCRIPTION
Follow the steps below to activate your SiteLock Security subscription.
CLICK 'PURCHASE & ACTIVATE' WITH SITELOCK LITE SELECTED.
Don't worry – there is nothing to purchase.

CONTENTS



MANAGING YOUR WEBSITE SECURITY WITH SITELOCK
VULNERABILITY SCANNER
A website vulnerability is a weakness in code that cybercriminals can exploit to gain unauthorized access to your site. SiteLock's website vulnerability scanner easily detects these weaknesses. Once the website vulnerabilities are identified, SiteLock's vulnerability patching can automatically fix weaknesses in your content management system (CMS) before cybercriminals exploit them. You can think of it like patching a hole in your wall—if there's a vulnerability, it is automatically patched and your site remains secure.
MALWARE SCANNER
SiteLock's industry-leading malware scan analyzes website content, flagging suspicious and malicious content and notifying you immediately of any issues to correct.
• Daily outside-in scanning checks for over 10 million threats
• Stops search engine blacklisting by alerting you to issues before they're detected by crawlers
• Stops malware infections that cause slow load times and attacks on website visitors
RISK SCORE
All websites are at risk of attack—and your site features, like plugins, are actually putting you at an increased risk. This is why it's important for website owners to understand their likelihood of a breach. When you know your risk, you can make an educated and proactive decision about your security.
SiteLock created a proprietary risk assessment to determine your likelihood of a compromise. The assessment reviews your site and calculates your risk score on a scale of low, medium, and high—ensuring you're informed about any potential threats you might face.
EMAIL ALERTS
Email alerts help keep you informed regarding important security alerts and updates for your website(s).
MANAGE YOUR SITELOCK ACCOUNT
Managing the Security of your Websites via your SiteLock account is easy.
LOGIN TO FROGDEN (YOUR HOSTING ACCOUNT CLIENT AREA)
Need help logging into FrogDen? You can Reset your FrogDen Password HERE.
SCROLL DOWN, UNDER THE 'MANAGE YOUR SECURITY' SECTION
CLICK ON 'MANAGE'
Select the your website from the drop-down list, then click on 'Manage' to enter your SiteLock Security Dashboard.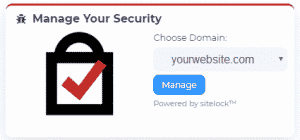 That's it! You should automatically be redirected into your SiteLock Security Dashboard for the website you've selected. Here you can managed the Security for your website, configure your email alerts and assess your Website(s) Risk Score.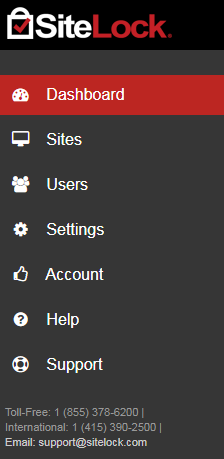 YOUR SITELOCK SECURITY DASHBOARD
While it is optional, we highly recommend activating your courtesy SiteLock subscription. Activating your SiteLock Security Subscription will enable access to security tools for your website(s) and add an extra layer of security for your website(s).
When you activate SiteLock you will have access to the SiteLock Dashboard. From there you can complete basic security tasks like Vulnerability Scanning, Malware Scanning and view your Website(s) risk score.
You can also configure important email alerts and notifications regarding the security of your website.
Don't have Hosting? Choose from our Available Plans
BUSINESS HOSTING
Great for Database-Driven CMS (content management systems), Static Page Websites or Larger Projects.
WORDPRESS HOSTING
Specifically tailored for WordPress. WordPress Complete Security Solution + Essential WordPress Tools.
VPS HOSTING
Managed Virtual Private Server. Choose your Stack and Deploy to your own Standards and Specifications.
Helpful Articles & Resources