Free WordPress Transfer GlowFrog
We are happy to offer new members of our family a Free WordPress Transfer to GlowFrog Hosting! For our users who already have a WordPress website, there are two ways you can take advantage of your free WordPress transfer. In this article we will outline both below.
Free WordPress Transfer GlowFrog: Professional Same Day Transfer

Our GlowFrog Hosting WordPress experts are happy to transfer your WordPress website for you – Free of Charge! We aim to provide same day transfers. It is our priority to ensure your WordPress website is functioning without error and perform the transfer with zero perceivable downtime.
Thinking about Going GlowFrog? Click Here to receive your Free WordPress Transfer!
Perform your own WordPress Transfer
Alternatively, if you prefer to handle your own migration, you can perform your own migration from within FrogDen within WordPress Manager. You will need your FTP details from your old host.
Steps to Perform Your Own Migration
Step 1. Log into FrogDen
Step 2. Click on the 'Services' icon to view a list of your Active Services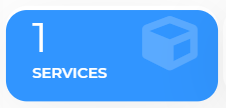 Step 3. Click 'Active' next to the Hosting Account with Your Domain

Step 4. From the Actions Panel, click on 'WordPress Management'
Step 5. Click on the dot Menu and Select 'Import from Remote Server'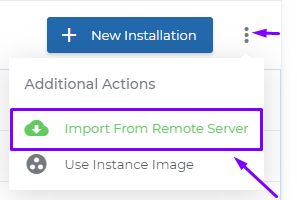 Step 6. In the Source Tab, Enter the Domain and the FTP details from your Old Host
Step 7. In the Destination Tab, Enter your Domain Name (the domain you are transferring WordPress to)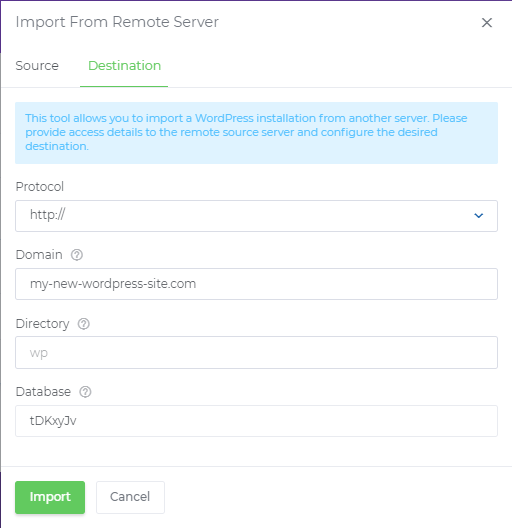 Step 8. Click 'Import'
That's it! Your WordPress website will be imported to your GlowFrog Hosting account from your Previous Host. This can take several minutes to complete depending upon the size of your WordPress site and the technical parameters of your old host. Please allow ample time for the process to complete. You can safely navigate away from the page without interrupting the import process.
We have your back 100%!
When you go with GlowFrog Hosting you are never alone! If at any time you experience difficulty when performing your own migration, our Support Team is Top Notch. We are happy to assist you with your migration should you get stuck.
Helpful Articles & Resources
We are sorry that this post was not useful for you!
Let us improve this post!
Tell us how we can improve this post?